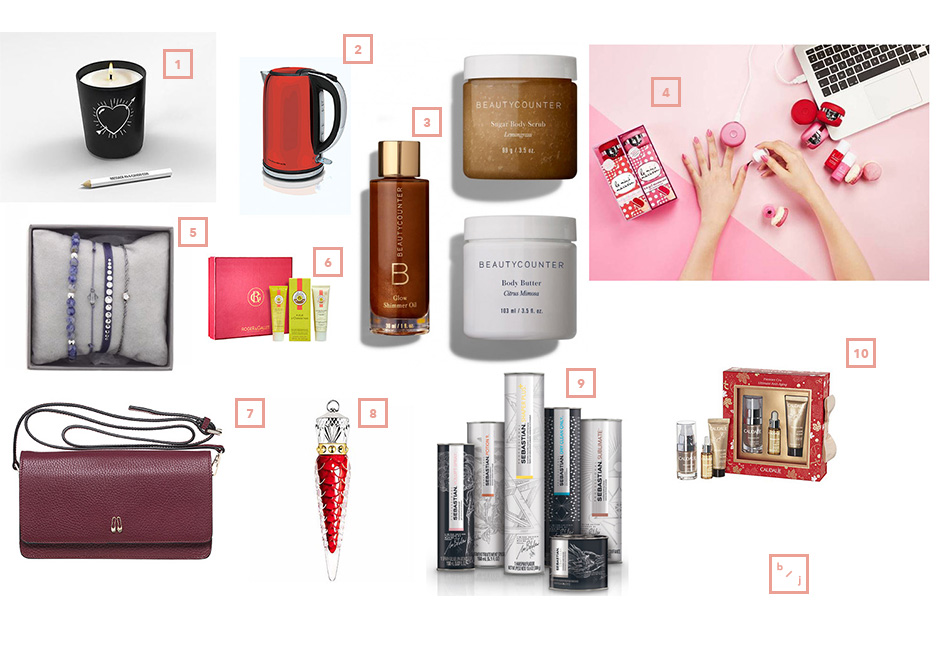 English version follows
Déjà le temps de penser au magasinage du temps des fêtes! Comme le temps passe vite! Voici quelques idées pour vous faciliter la tâche. Bon shopping!
1- La Bougie Ardoise de Floracos: Cette bougie haut de gamme permet d'écrire un petit mot personnel grâce au revêtement spécial d'ardoise dont le verre a été laqué. Un crayon spécial ardoise est inclus. Disponible chez Tallanda Showroom sur rendez-vous.
2- Bouilloire à verseuse en inox sans cordon qui reste toujours fraîche au toucher: Disponible à 69,99$ sur Hamilton Beach.
3- Ensemble-cadeau Éclat et Brillance de Beautycounter: Trio comprenant gommage au sucre pour le corps, Beurre corporel agrumes et mimosa et une Huile éclat chatoyant. Disponible à 88$ sur Beautycounter.
4- Ensemble de manucure maison au gel Le Mini-Macaron: En seulement 15 minutes, créez une manucure digne d'un salon avec une lampe DEL compacte permettant de se faire les ongles. Disponible à 45$ chez La Baie D'Hudson.
5- Les Strass Box de Les Interchangeables: Une boîte-cadeaux renfermant 4 bracelets faits à la main en France alternant les créations avec      cristaux Swarovski et de perles naturelles. Disponibles entre 71$ et 100$ chez Le Boudoir Brigitte Gasparyan.
6- Coffret-cadeau Roger & Gallet renfermant 1 Eau Fraîche 100 ml, 1 Gel Douche 50 ml et 1 Lait Corps 50 ml pour un prix spécial de 47$. Disponible dans toutes les fragrances Roger & Gallet.
7- Sac en cuir rouge de Pretty Ballerinas. Disponible à 379$ chez Pretty Ballerinas au 392 Ave Victoria à Westmount.
8- Laque à lèvres Loubilaque Rouge Louboutin: Ce chic tube de laque est une oeuvre d'art en soi en plus de renfermer un produit bien pigmenté d'un superbe rouge vif rappelant la teinte des semelles des fameux escarpins Christian Louboutin. Disponible à 115$ chez Holt Renfrew.
9- Collection édition limitée Sebastian Professional: Pour la saison des fêtes, 6 produits coiffants phares de la marque sont offerts dans des boîtes ornées d'une oeuvre de l'artiste de tatouage Maxime Büchi dont les influenceurs les plus en vue et même Kanye West sont fans. Chaque produit est disponible entre 19,95$ et 22,95$ dans certains salons de Sebastian.
10- Coffret Cadeau Premier Cru de Caudalie: Ensemble comprenant Premier Cru La Crème Yeux, Premier Cru La Crème et Premier Cru L'Élixir. Disponible à 105$ dans les boutiques-spas Caudalie.
———————————————————————————————————————————————————————————-
The countdown is on : It is more than time to start shopping for Christmas! Where did the time go? Here are some gift ideas. Have a fun and good time shopping!
1- La Bougie Ardoise from Floracos : This high-end perfumed candle has a special slate coating that gives you the possibility to write a message on it with the white pencil included. Available by appointment at Tallanda Showroom.
2- Red 1.7 Litre Stainless Steel Cordless Kettle : Available at 69,99$ on HamiltonBeach.
3-  Shimmer & Shine Gift Set from Beautycounter : This set includes Sugar Body Scrub, Body Butter in Citrus Mimosa and Glow Shimmer Oil. Available at 88$ on Beautycounter.
4- Le Mini-Macaron gel manucure set : In only 15 minutes, create at home a spa gel manucure with the help of the mini DEL lamp included in the package. Available at 45$ at The Hudson's Bay.
5- Les Strass Box from Les Interchangeables : A gift-set including 4 hand-made in France bracelets mixing Swarovski and natural pearls creations. Available between 71$ and 100$ at Le Boudoir Brigitte Gasparyan.
6- Gift set Roger & Gallet including 1 100ml Eau Fraîche, 1 50ml Shower Gel and 1 50ml Body Milk for a special price of 47$. Available in all Roger & Gallet fragrances.
7- Red leather bag from Pretty Ballerinas. Available at 379$ at the Pretty Ballerinas store located at 392 Victoria Ave Westmount.
8- Loubilaque Lip Lacquer from Christian Louboutin : This piece of art tube is not only beautiful but it is filed with the shiniest red lacquer you will ever wear. Available at 115$ at Holt Renfrew.
9- Sebastian Professional Limited Edition Collection : Tattoo artist Maxime Büchi brings his unique vision with exclusive designs he created for 6 iconic hair products from Sebastian Professional. Available between 19,95$ and 22,95$ in selected Sebastian Salons.
10- Premier Cru anti-aging set from Caudalie : This set includes Premier Cru The Eye Cream 15ml, Premier Cru Cream 15ml and Premier Cru The Elixir 10ml. Available at 105$ at Caudalie Boutiques Spas.