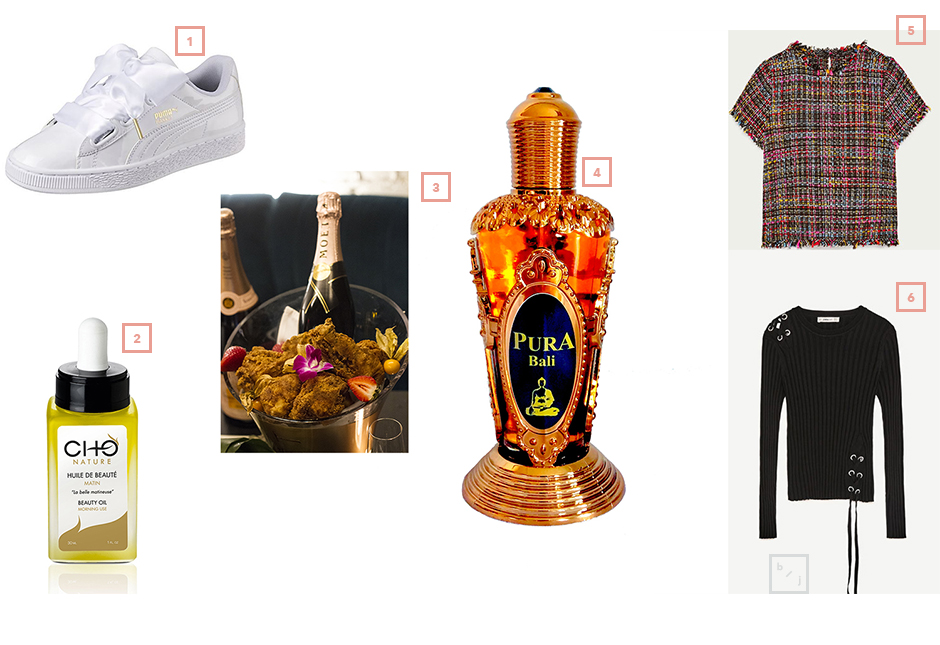 English version follows
Le premier mois de 2017 s'est envolé en un éclair! Voici donc le moment de vous présenter mes coups de cœur mode, beauté et art de vivre des 30 derniers jours. Laissez-vous inspirer!
1-  La tendance ballerine est sur le devant de la scène mode cette saison. Elle a inspiré Puma qui a ajouté une touche résolument féminine et délicate à ses chaussures de course. Disponibles en noires ou blanches (ma nuance préférée), les Heart font fureur en Europe et ont été vues aux pieds des influenceures les plus populaires. Je craque pour les lacets de type rubans. Disponible chez Puma.
2- Huile de beauté matin de Cho. Les huiles sont devenues des produits stars en beauté les dernières années. La marque française Cho propose une gamme de produits à base d'huiles et naturels, deux éléments très recherchés en cosmétologie. J'ai craqué pour l'Huile de beauté matin  qui en plus de sentir divinement bon protège la peau des agressions extérieures telles UV, pollution, vent et froid. Disponible chez Tallanda.
3-  Le Bird Bar. Déguster un verre de champagne avec du comfort food n'est désormais plus une faute de goût! Un de mes plaisirs est de boire une coupe de bulles avec un hamburger ou un club sandwich! Le Bird Bar pousse le mélange des genres plus loin avec le combo bulles-poulet frit…et ça marche! On se rend au 1800 Notre-Dame O pour découvrir le menu composé de popcorn de poulet frit, de sandwich poulet frit Birdbar et bien d'autres choses appétissantes.
4- Huile de parfum Noix de Coco de Pura Bali. Je suis folle des huiles pour le corps…si en prime elle sent bon la noix de coco, je craque. La marque Pura Bali propose une gamme d'huiles précieuses d'origines végétales et naturelles. Non testées sur les animaux et exemptes de produits néfastes tels les parabènes, ces huiles hydratent et nourrissent la peau tout en laissant un parfum gourmand. Disponible chez Tallanda.
5- Top en tweed effiloché. Ce haut Zara est juste parfait : Classique avec une touche moderne, il se portera à merveille avec des jeans déchirés pour un mélange des genres réussi. Disponible chez Zara.
6- Pull côtelé à lacet. Les lacets sont encore top tendance : Ils seront encore partout même la saison prochaine! Ce haut dose bien les côtés mode et plus classique vu sa coupe et sa couleur. Disponible chez Zara.
———————————————————————————————————————————————————————————-
Where did January 2017 go!? It's already that time of the month where I share with you my favorites in fashion, beauty and lifestyle of the last 30 days. Enjoy!
1- Ballerina dancer trend will be everywhere next season. This trend inspired Puma who created a very cute and feminine sneakers line. Available in black or white (my favorite shade), the Heart are a big thing in Europe and you can already see some of the biggest influencers wearing them. I really do love the delicate shoe lace. Available at Puma.
2- Huile de beauté matin from Cho. Beauty oils are a major thing in cosmetology these years. French brand Cho is offering a line of beauty products made with oils and completely naturals, two qualities that beauty addicts are looking for now. I felt for the Huile de beauté matin, an oil that you put on your face in the morning that protects your skin from UV's, pollution, wind and cold. Plus, it smells soooo good! Available at Tallanda.
3- Le Bird Bar. Sipping a glass of bubbly with comfort food is now socially acceptable! One of my favorite combo is drinking champagne with a hamburger or a sandwich club! Le Bird Bar is following this chic-comfy food trend and is offering bubbly and fried chicken…and believe me it works! Rush to 1800 Notre-Dame W St to taste the fried chicken popcorn, the Birdbar fried chicken sandwich and much more!
4- Coconut Sensual Perfume Oil from Pura Bali. I am crazy about body oils…and if it smells coconut, I fall for it! The brand Pura Bali is offering a line of natural precious oils that are made up of ingredients from plants sources. These oils hydrate and nourrish the skin and smell so good. Available at Tallanda.
5- Frayed tweed top. This Zara top is just perfect : You can never go wrong with tweed! It is classic with a modern vibe and it would look fabulous paired with riped jeans. Available at Zara.
6- Ribbed sweater with cord. Cords are still a big thing in fashion and good news : It will still be everywhere next season! This top is a perfect mix of trend and classic with it's shape. Available at Zara.