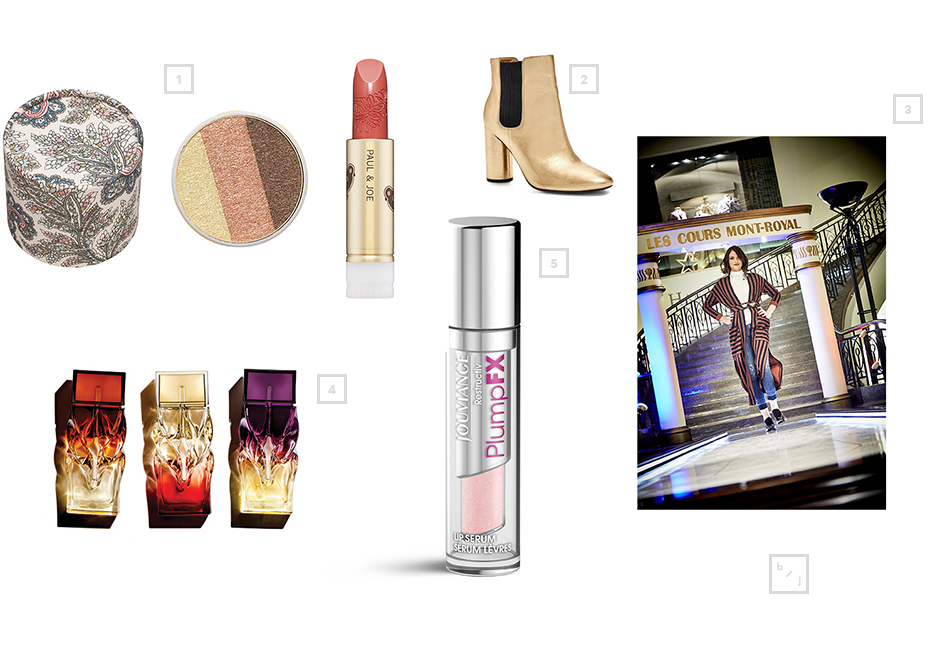 English version follows
Oui! Oui! Je sais! J'avais dit que je prenais congé du blogue pour deux semaines, mais je n'ai pu m'empêcher de vous présenter comme à l'habitude chaque début du mois, mes coups de coeur des 31 derniers jours. Laissez-vous inspirer!
1- Collection de maquillage Promenade dans un parc parisien de Paul & Joe: L'automne à Paris c'est magique. Je peux le confirmer car je l'ai déjà vécu. La marque trop mignonne Paul & Joe propose une collection de maquillage dont les teintes et les emballages sont inspirés de cette période de l'année dans la Ville Lumière. Je craque pour les fards à paupières (26$) en nuance Les Feuilles Mortes (102), le fard à joues (48$) aux teintes rosées Petite promenade (106) et le rouge à lèvres  (21$) Bisous au Parc (100) qui est un beau prune. Ce rouge à lèvres peut être rangé dans un étui (7$) à son choix et j'aime beaucoup le coloris no 034 qui est orné de coloris automnaux. Disponibles en ligne  au galerieBEAUTE.ca, et dans certains magasins Murale et Galeries Beauté de certains Pharmaprix/Shoppers Drug Mart.
2- Bottines or: Les bottillons or sont hyper tendances cette saison et glamourisent instantanément une tenue noire. Je craque pour ce modèle "Eilana" de Marciano. Disponible chez Marciano à 248$.
3- Boutique Pinko: La marque italienne fondée au début des années 80 a choisi Montréal pour s'implanter au Canada. Les Cours Mont-Royal accueillent le magasin-phare de 2204 pieds carrés Pinko où la mode contemporaine est à l'honneur. Des vêtements aux chaussures, sacs et tuques, Pinko vous habille de la tête aux pieds avec originalité et style. Pinko est situé au 3e étage des Cours Mont-Royal au 1455 Peel à Montréal.
4- Parfums Christian Louboutin: Le célèbre designer de chaussures propose maintenant 3 parfums qui sont disponibles chez Holt Renfrew. Les bouteilles sont une oeuvre d'art en soi et les fragrances aux noms évocateurs (Bikini Questa Sera, Tornade Blonde et Trouble in Heaven) vous feront assurément voyager. Offerts à 375$ chacun en magasin et en ligne.
5- Sérum lèvres repulpant Plump FX de Jouviance: Un nouvel outil à glisser dans sa trousse beauté cette année. Pourquoi? En un geste il donne volume aux lèvres (c'est vrai!), hydrate, adoucit et a un effet immédiat. Sa teinte légèrement rosée fait que Plump FX peut être utilisé seul ou sur son rouge à lèvres préféré. Disponible à 32$ sur Jouviance et chez Jean Coutu et Pharmaprix.
———————————————————————————————————————————————————————————-
I know : I said that I would take time off from the blog for the next 2 weeks, but I couldn't help it but share with you my favorites of last month like I'm doing every single month! I hope that this list will inspire you!
1- Limited-edition make-up collection A stroll in the park in Paris from Paul & Joe : Automn in Paris is magical. I can confirm it because I've been in the City of lights during that period of the year! The cute brand Paul & Joe is launching a special collection inspired by the colors of the parisian fall. I felt in love with the eyeshadows (26$), especially the one in shade « Les feuilles mortes 102 », the cheek color (48$) in shade « Petite Promenade 106 » (it's a pink shade) and the lipstick refill (21$) in shade « Kiss in the park 100 ». This lipstick can be put in a lipstick case (7$) of your choice and I really do like the one in no 034 that has fall and colors prints. Available at beautyboutique.ca and Murale and Galeries Beauté of some Pharmaprix/Shoppers Drug Mart.
2- Gold booties : Gold shoes are super trendy right now and puts a touch of glam on any black outfit. I felt in love with these « Eilana » boots from Marciano. Available at Marciano at 248$.
3- Pinko store : The italian brand that was founded in the begining of the 80's choosed Montreal for it's first canadian store. This  2204 square foot flagship store is now open at Les Cours Mont-Royal. From clothes to shoes, bags and hats, Pinko will dress you in style from head to toe with an italian style vibe. Pinko is located on 3rd floor at Les Cours Mont-Royal at 1455 Peel street in Montreal.
4- Christian Louboutin perfumes : The famous shoe designer is launching 3 perfumes that are now available at Holt Renfrew. The bottles are a piece of art and the fragrances will make you travel with their inspiring names : Bikini Questa Sera, Tornade Blonde and Trouble in Heaven. Available at 375$ each in store and on line.
5- Restructiv PlumpFX lip plumper from Jouviance : This new beauty product will become a must for sure! Enriched with plumping peppermint and hydrating hyaluronic acid, it will give you perfect lips in a minute! It can be use alone (thanks to the light pink shade!) or over your favorite lipstick. Available at 32$  on line and at Jean Coutu and Pharmaprix/Shoppers Drugmart.